Securing our supplies
08 Mar 2019
We're readying the Melbourne to Geelong Pipeline to boost Geelong's supplies following a dry spring and summer.
From April, Barwon Water will access the Victorian water grid via the pipeline, one of our crucial back-up supplies.
Minister for Water, the Hon Lisa Neville MP, made the announcement this morning at Barwon Water's Lovely Banks storage site.
Greater Geelong's surface water storages are 41.9% full – the lowest at this time of year since 2016. It follows a dry spring and summer, leading to both lower reservoir inflows and higher consumption.
This has prompted an order for 1.3 gigalitres of water from our allocation in the Thomson/Yarra catchment.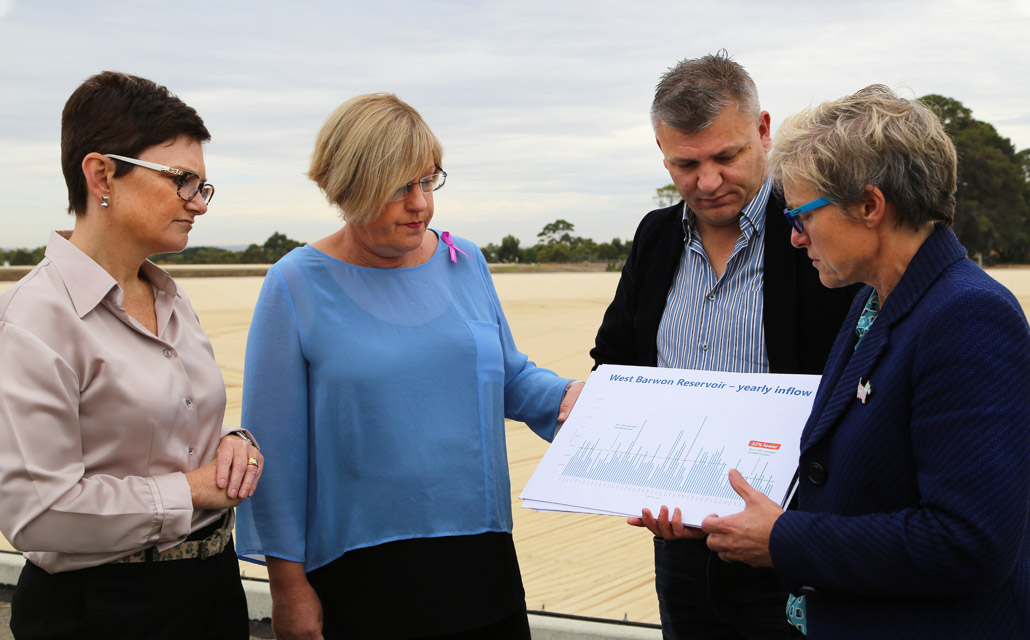 The 59-kilometre Melbourne to Geelong pipeline connects the Lovely Banks storage basins with Melbourne's supply network at Cowies Hill, west of Werribee. Completed in 2012, the $80 million pipeline project was one of the biggest in our history. It was part of a record $750 million investment between to diversify our water sources, addressing the challenges of climate change and population growth.
There will be no additional cost to Barwon Water customers as a result of switching on the pipeline. Current prices are locked in until June 2023.
The Melbourne to Geelong pipeline is one of a number of critical back-up water sources that can supplement the existing supply system in response to dry conditions. Accessing these back-up sources is part of a balanced approach to managing our water resources and providing greater water security.
The decision to bring back-up sources online is continually monitored based on storage levels, water usage trends rainfall forecasts.
Victorian Government media release: securing water for Geelong in dry conditions