Barwon Renewable Energy Partnership secures wind power agreement
25 Aug 2022
The Barwon Renewable Energy Partnership (B-REP) of Barwon Water, Barwon Health and GeelongPort has collectively taken a big step towards using 100% renewable electricity and producing net zero emissions having secured a power purchase agreement (PPA) with a local wind farm.
The B-REP recently entered a PPA with the Mount Gellibrand Wind Farm near Birregurra for the provision of 68 gigawatt hours a year of renewable electricity. ACCIONA Energia's Mount Gellibrand Wind Farm has been operating since 2018 and has 44 turbines, each with a capacity of 3 megawatts.
The 10-year agreement will see the renewable electricity produced at the farm and sent to the grid allocated to the three organisations, offsetting the energy used at their facilities.
Barwon Water Managing Director Tracey Slatter said she was thrilled to be working with Barwon Health and Geelong Port to support the region's transition to renewable energy.
"Barwon Health and GeelongPort play such significant roles in our region and we're proud to partner with them to enter into a long-term arrangement for the supply of renewable energy from a local provider.
"This project is the final step to meet Barwon Water's target of using 100% renewable electricity by 2025, and a huge step towards Barwon Water's target of achieving net zero emissions by 2030. It is really exciting in terms of action on climate change, and I couldn't be more proud of the work that has been done to get us there."
Ms Slatter said that previously, more than 80% of Barwon Water's emissions came from the use of electricity sourced from the grid.
"The turbines at Mount Gellibrand Wind Farm will deliver Barwon Water 45 gigawatt-hours a year of renewable electricity – more than 100% of our total electricity needs in an 'average year' (and 75% in a very dry year).
"It will complement our existing on-site, behind-the-meter generation (such as the 3-megawatt Black Rock Solar Farm) and the Zero Emissions Water Power Purchase Agreement with Kiamal Solar Farm."
Ms Slatter said the project would help contribute to Victoria's renewable energy and emissions reduction targets and contribute to creating new jobs and further developing the renewable energy sector.
"This initiative is a major step in reducing carbon emissions in the region and will help each of the participating organisations offset rising energy costs, which in turn will help to reduce operating costs."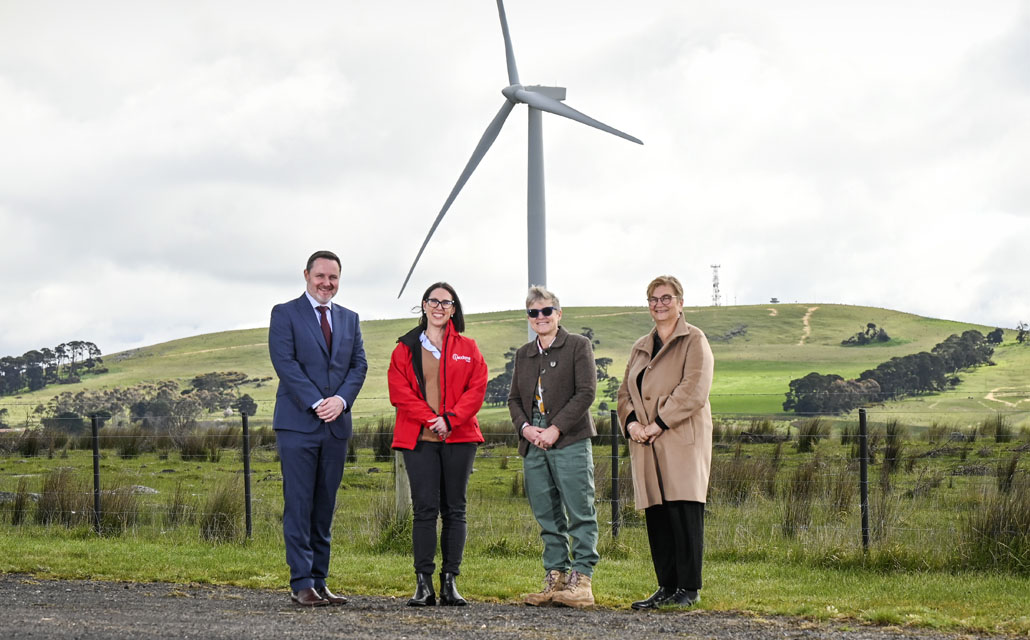 Left to right: Brett Winter (Chief Executive Officer, GeelongPort), Melanie Sutton (Director of Energy Markets and Policy, ACCIONA Energia), Tracey Slatter (Managing Director Barwon Water), and Frances Diver (Chief Executive, Barwon Health) at the Mount Gellibrand Wind Farm.
GeelongPort Chief Executive Officer Brett Winter said investing in clean energy opportunities was essential for tackling climate change and GeelongPort was excited to be partnering with leading organisations such as Barwon Water and Barwon Health to support the development of renewable energy facilities in our region.
"Sustainability is a core value at GeelongPort, because not only do we work here, but we live here too. Our Environment Strategy has the bold vision to be Australia's most environmentally sustainable bulk port.
"GeelongPort was the first port in Australia to achieve Climate Active carbon neutral certification for our business operations.
"This PPA and the use of 100% renewable electricity is a key component of our emissions reduction strategy and reduces our reliance on carbon offsets whilst maintaining our carbon neutral status."
Barwon Health Chief Executive Frances Diver said it was an exciting and innovative project that would help Barwon Health meet emission reduction targets and demonstrate the benefits of regional collaboration across the public sector.
"At Barwon Health, we recognise climate change is a big issue and recognise the clear link between the health and wellbeing of the environment and the health and wellbeing of Victorians, particularly the most vulnerable Victorians.
"Like all hospitals and health services, we consume a large amount of energy. Participating in the B-REP project will see us significantly reduce our carbon footprint from energy use and join Barwon Water and GeelongPort in leading the region's transition to renewable energy.
"The agreement will provide Barwon Health with 15 gigawatt hours of clean electricity annually for the next decade, reducing our total greenhouse gas emissions by around 70% or 14,700 tonnes per year."
ACCIONA Energia Director of Energy Markets and Policy Melanie Sutton said that the agreement was another step towards delivering on the Victorian Government's Climate Change Strategy.
"We're really proud of this agreement and how we're linking renewable energy generated here in Victoria to power Victorian businesses and helping them reach their decarbonisation goals.
"We know that large-scale renewables can supply the power required for commercial customers. Today is another example of how major businesses can successfully decarbonise their energy use and reduce their power bills."